I Want A Husband - Chapter 9
Chapter 9
"She said that I shouldn't sleep alone. We have to sleep together on a sick day and on a runaway day. So, starting today, I will sleep next to the General."
It was a very quick answer, and she felt so excited. I just wondered how the hell did this child get her education.
"Did she tell you that a child shouldn't sleep with a man?"
"Well. You're not just a man, General. You've been my Husband since today."
"Ah! Then I should call you Seobang-nim* now!"
(Seobang-nim – /서방님/ is a traditional word which is used to call her husband.)
I don't know how she could speak so fast and speak with such an innocent face. 
"I am ready to go. You can do whatever you want. Clothes off." Then she continued to linger in Cheongwoon's ears. 
After an ambitious view of the night, Cheongwoon woke up from slumber at the strange sound he heard at the side. At first, it seemed to me that it was the sound of a beast, and somehow resembled the sound of crying.
When I looked around, I was surprised to see Haehwa lying curled up on the futon next to me, and was trembling while sleeping.
"Mother….."
She pretended to be calm and desperate, but in fact, she was very anxious. Even though she fell asleep exhausted, her eyes were wet.
"In this way, what kind of marriage will she have?
"Go…."
She's a child that made no fuss. Twelve years old. If it were other children, it was a time where they would still be in the loving arms of their parents, rather than to marry. 
But marriage…
It was when Cheongwoon, who finally couldn't endure seeing Haehwa trembling, stood up, and the wind blew again, carrying Haehwa's cry, stimulating him.
"Huh…"
Cheongwoon rubbed his head roughly and swallowed an irritable scream. Damn it! She's a girl who bothers me terribly.
Cheongwoon, who came back, threw a  blanket over Haehwa's small body. Haehwa's small body was easily covered in the blanket. Perhaps because of the warmth, it seemed that her trembling had subsided a little. Looking down at her, Cheongwoon muttered dissatisfied.
"Okay. You can sleep comfortably now. Children should sleep more and the old man will smoke alone."
Finally, Cheongwoon, who came out again, sat on the Daecheongmaru* (look at picture) and lit the Gombangdae (smoking pipe ) on fire.
(Daecheongmaru)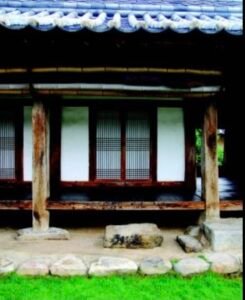 (Takasugi from Gintama, is so cool in this picture)
"Woo…"
…
I remembered my younger brother who died in the war.
During another war outbreak, another siege suddenly took an army and occupied the southern coastal city. In an instant, the capital city became a mess. As a result, before settling on the evacuation route, my younger brother was swept away by the crowd and was trampled to death.
At that time, my younger brother's age was just like hers. So, there was a reason why they couldn't just leave the child away. It must have been the same reason why my mother begged me for her acceptance.
Cheongwoon once again took a smoke.
Momogang:want to read whole novel .cant wait for next chapter.click here