Imprint Of Count Wolf - Chapter 21
Chapter 21
'Did the Count come back early?'
I captured a sudden hunch, 'Why am I feeling so anxious all of a sudden?'
"The Lord is back!"
"Ready to greet the Lord!"
Tall strong guards shouted. Soon the gate opened.
Eckart spurred the horse to the gates. He passed through the yard, followed by the knights.
When he crossed the outer castle and reached the inner courtyard's entrance, the general butler ran out and bowed in welcome to Eckhart.
"What is it, Lord? I thought it would take another 15 days to come back."
"I left the wolf hunting to Tilo this time."
Eckart jumped off the horse. The servants ran and took off the dusty cloak and untied the boots. Eckhart changed his shoes to clean ones. The butler made a puzzled face.
"There is no urgent reason for your short trip?"
"No."
Eckart replied roughly.
In reality, there was no reason to come back early. The only reason was that his thirst didn't go away.
 ( ͡° ͜ʖ ͡°)
"What about Princess of Aida?"
"The Lady will be in the garden. She eats lunch there at this time."
"Bring my lunch there too. Serve the soldiers some as well."
"Yes."
"There is no need to follow me."
He took huge strides towards the garden. The butler tilted his head, but he thought that if Ekart had come back early, he would have a good reason and asked no further questions.
Alone, Eckart traversed through the hallway.
His steps were somewhat impatient.
The courtyard was surrounded by corridors on all sides. Although it was a piece of land, it was a place where the sun was well lit, and it had a well that could be used when irrigating the garden nearby.
And there was a new awning put on the courtyard.
( the green shed is an awning.)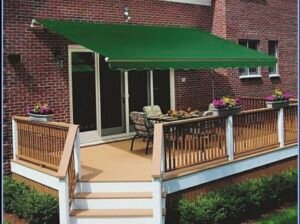 Lisa ws seated  under it. And this was the sight Eckart saw when he entered the garden.
He looked at her in a strange mood. Not because Lisa had done something, but because of the sunshade. He remembered that his mother, who had passed away long enough to be forgotten, used to put up an awning in the courtyard and drink tea just like that. He had not been obsessed with appreciation for them for a long time after that. As he entered the courtyard, Lisa stood up in amazement.
"Have you been well?"
The back of the neck that had hesitantly bowed was as white as jade.
She was not the most beautiful woman. She was not a bright blonde as if the light was flowing through it, and it wasn't this beautiful neckline that seemed to be made just to tempt him.
He just did not dare to evaluate the beauty of his wife.
Momogang :want to read whole novel .cant wait for next chapter.click here